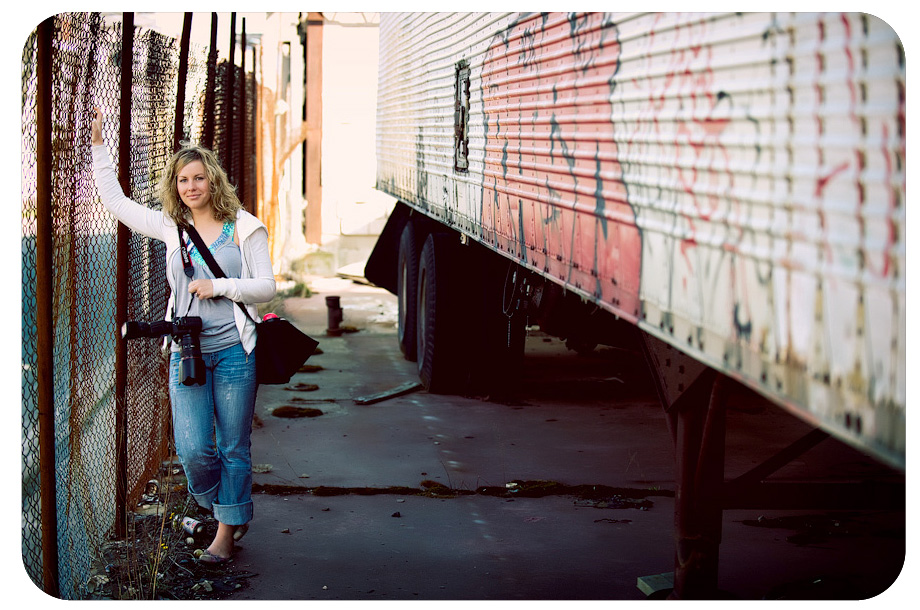 Oh happy Tuesday, the day when you learn more about ME! Above is a photo Mr. Jeff Cooke took of me when we were scouting the location for our TTD shoot with Kim.
1. My mothers mother was french my mother bilingual, and Alex's mother and father are both french, but we are not so good with the french at all.
2. for example we pronounce Gionet "gee-oh-net" or "jeanette" (It gets misspelled all the time) as apposed to the french jionay (obviously you don't want me to be writing your french dictionary!)
3. I am pretty much obsessed with lululemon. I love love love this stuff! I am usually pretty frugal, but I can seriously spend money on this stuff! This week I got a pair of their "wunder under" leggings…so comfy…
4. I used to hate breakfast. (when I called it brekfixt) I still don't always eat it (I know…tisk, tisk) but I do enjoy breakfast foods a lot more now than I used to. But, I would prefer to go out for any other meal…
5. (i)(use)(these)(things)(too)(much)(well I guess too much is relative…I use them a lot, because I have thoughts inside thoughts, just like in real life)
6. I have an obsession with new notebooks and plain white paper. Guess I must like a clean slate. I bought a new notebook today…just because the plain pages were so full of promise :) I guess its like each new day, I just need to remember to look at it that way!
7. I make yearbooks. Well I have for the last 4 years. I use a personal blogger blog, and then use blurb.com to create blurb books. Its awesome to have all of the images and thoughts printed all in one place for each year. loves
8. I find the thought of "being green" overwhelming. I am trying to make changes, but not always sure what to do! I didn't know half the things you could recycle locally. For more info you can check out "what goes where" at the HRM link… and let me know if you have any good "green" tips.
9. I buy cheap sunglasses. I lose/break 2-3 pairs a year.
10.  I don't like guns. Real, toy, video, paint, air-soft, don't like em. For some reason lazer tag guns and bubble guns don't bother me as much.
That's it until next week!