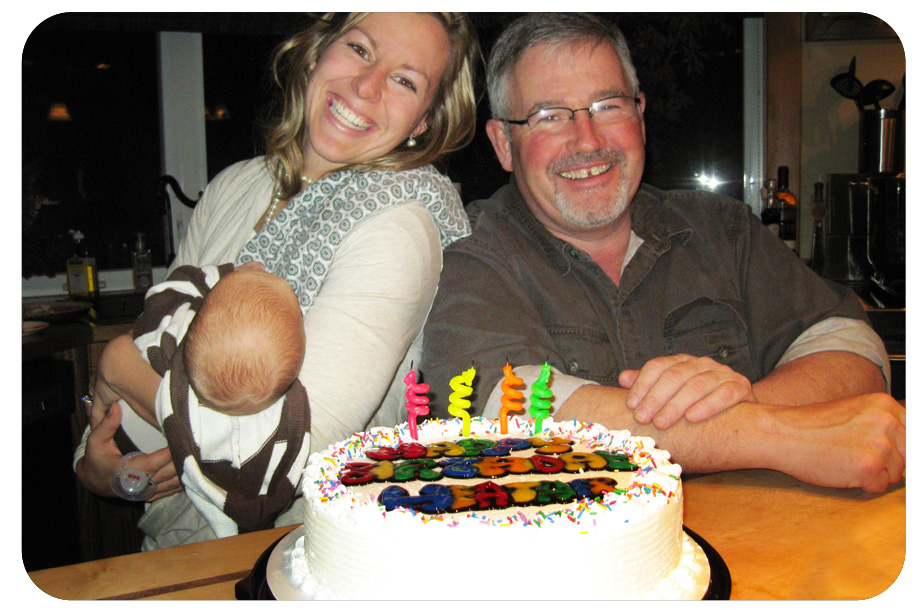 Well you probably guessed it! Yesterday was my Birthday!!!! YAY :) I really am one of those people who loves their own birthday, which is funny because I don't usually love being the center of attention. But I do love the excuse to get together with family & friends…and to of course eat ice cream cake! I was super sick over the last week, but managed to have a great birthday anyway! Here are some random things and a couple of birthday highlights for you!
1. I got this birthday message on my voicemail yesterday! I never want to delete it. Its from one of my favorite families! Click here to hear them sing me happy birthday : My Birthday Message
2. My sister in law Sally and her hubby Todd took us to the Wizard of Oz for our birthdays and we LOVED it! If you have a chance to go to Neptune to see it, I would definitely recommend it!
3. Sally & Todd also had our friend Katy (of Sugarhigh) design us some cupcakes. Cameras on mine and bike gears on Alex's – DELISH!!! You can check out the pictures of the cupcakes and other Sugarhigh creations here!
4. The pic above is of me and my dad (and one of my best friend's little boys)! My mom and dad host my annual birthday dinner (pizza and Ice Cream cake…what more could a girl want??) every year and they are pretty much the bestest ever!!! I just wanted to put in a small plug if any of you are looking for a unique Christmas gift for an outdoors-man/woman my dad's book River Talk is pretty darn awesome! You can check it out here  : www.mikecrosby.com (and even if you don't end up ordering one, there is a great sample story on there too :))
5. Like I had said I had been sick for a while so I took a nap at my parents house and I asked my mom when I woke up if I could borrow her curling iron…which is funny because she has really really short hair…and was even funnier when I opened up my gift 3 hours later and found that they had bought me a curling iron for my birthday!
6. I like opening the doors of an advent calender, but I don't like the chocolates so Alex takes care of that for me.
7. My mom used to make a lime sorbet smoothie type punch for Christmas every year…we haven't had it in a long time but think we may need to bring that tradition back!
8. My favorite Christmas treats are Christmas cookies. Shortbread, sugar, ginger…. I like em all!
9. I am very competitive…and my poor Alex can't win….well he often does. We were given the game blokus by the millers… and I have not won yet…(rematch tonight after gift wrapping) however I get mad when he wins….mostly because halfway through the game he says "there is no way I can come back from this" and ends up placing almost ALL of his pieces!!! BUT I would be equally irritated if he "let me win" or "aided me in winning" by not making the best moves….
10. Tis the season for giving! AND Alex and I decided to give in a couple different areas this year…but one thing we thought that was great this year was Compassion Canada's gift catalog. They have often had goats, chickens, vaccinations etc that you could buy as gifts…but this year there are also some gifts that you can buy to help people help themselves…like small business start up assistance, farming training, baking training etc, anyway we thought it was neat and I wanted to share! click here for the Compassion Gift Catalog.
So not as many random things about me this week…but lots of random things! Hope you all have a great week!
All the best!
Heather