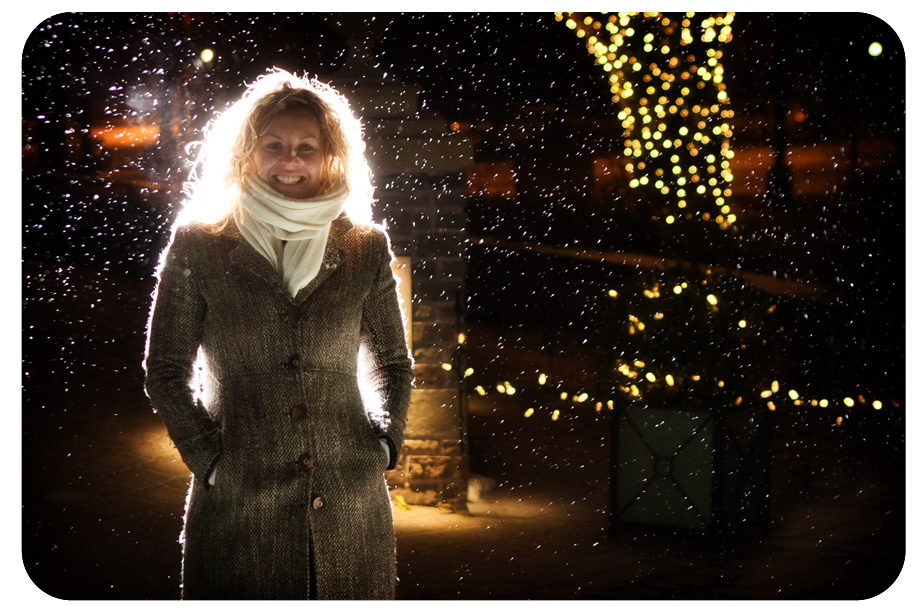 Wow! Well welcome to 2011. I have to say I have hit the ground running! I am really just totally excited for this year. I know that often people turn to the new year to help them get re-focused and set new goals and "restart" ….I did all of those things…or at least started…but then 2011 hit me like a tonne of bricks and I have a feeling this year is going to be busier (and better) than ever!!! I can't believe my 1st post of the year is a 10 random things Tuesday…I have TONNES to blog but like I said…hit the ground running and so this is what you get for today!!! I'll have some more images to share tomorrow.
This shot was taken just after wrapping up a shoot downtown last week (images…coming…soon…) but Mike shot this one with me and wanted to do some test shots to see why I had some settings the way they were, and what would happen if we changed things up a bit, this one may be a bit harsh with the glow but I thought it was fun, and I like the snow, and the twinkle lights!
So without further ado…
1. I don't like pepper from a pepper mill, I like the really fine stuff, and lots of it.
2. I find it difficult to dress warmly and look fashionable at the same time…anyone have any tips? I see some people on the street that I know sacrifice warmth to look good…I think I tend to go the other way…
3. I don't make resolutions….I set goals.
4. I accomplished 42% of my goals for 2010…one of my goals is to increase that by 50%
5. I like a quote my dad uses all the time in regards to goals "If you fail to plan then you can plan to fail". I was dissapointed that I hadn't accomplished more of my goals…but then I was reminded that if I hadn't make a list of 71 goals, I probably wouldn't have accomplished 3o of them!
6. I am not a huge fan of change in some things. I started getting back on track doing weight watchers this week…but they have totally changed the system… I knew the old system…I knew how many points I got in a day and how many points my favorite foods were…now it has all changed!!!
7. I got the new Dance Central game for Kinect…and well…I'm pretty much going to become the next SYTYCD star…ok maybe not…but my calves certainly hurt from repeating soulja boy like 6 times this morning…
8. We went shopping for a coffee table last week…and somehow ended up with a new couch, three chairs, coffee table, end tables and console tables….
9. If you didn't catch it in my preemptive spiel up there I really am excited for 2011….need to take some time to get some more goals in place but more than anything I want to make things happen this year!
10. I am officially booked for Mexico…34 days in total! If you are heading that way and want to set up a shoot or just get together for some chilling on the beach send me a message and we'll see if our dates coordinate!